The hustle and bustle of the holiday season is quickly approaching and the timeless tradition of decking the halls is beginning to cross the minds of many. With such a variety of options it can be hard to decide just how you want your home to look and feel.  Whimsical or rustic, chic or crafty, cozy or modern – the options are endless!
So as the air begins to chill, Dean Martin croons in the background and snow begins to blanket the ground, we've chosen twenty-five holiday decoration ideas to help you usher in this new and exciting season. 
25 Holiday Décor Concepts
White Christmas 
Nothing captures the delicacy of freshly fallen snow quite like the color white. From the mantle to the tabletop and everywhere in between, adorning your home in milky white lighting is the perfect complement to this snowy season. 
White adds just the right amount of softness to all other design concepts and color schemes, so don't hold back. Additionally, due to its subtle nature, this gorgeous look can be carried over well into the icy new year. 
Essential Elements
Looking to add natural inspiration to your holiday decorations this season? 
Organic elements are ideal for an eco-friendly take on holiday décor. Trees made of driftwood, pine cone and twig garland, faux reindeer antlers and even the soft pop of color from dried oranges are perfectly muted and natural components that will speak for themselves. 
Pair these elements with accents of soft, locally sourced greenery and you'll be set for a sustainable holiday.
Festive Farmhouse 
Creating a classic yet extraordinary holiday is easy when you channel Magnolia Market for inspiration. Tuck reclaimed wood sleighs with wrought iron accents in numerous corners and adorn oversized furniture with plush pillows and throws in buffalo plaid. Line ashwood candles in varying heights along the mantle and hang repurposed shutters adorned with your annual holiday cards, like any of these fantastic designs. When combined, these elements will surely usher the feel of a festive farmhouse to your home for the holidays. 
Ornamental Ornaments 
Colorful ornaments aren't just for trees anymore! Tall vases or decorative bowls filled with brilliantly colored ornaments can bring the spirit of any holiday to every room in your home. Nothing is more eye catching than an array of bold colors. Looking for other creative alternatives for these gorgeous accessories? Consider hanging them in varying lengths from your mantle to add just the right amount of texture between the stockings you've hung with such care.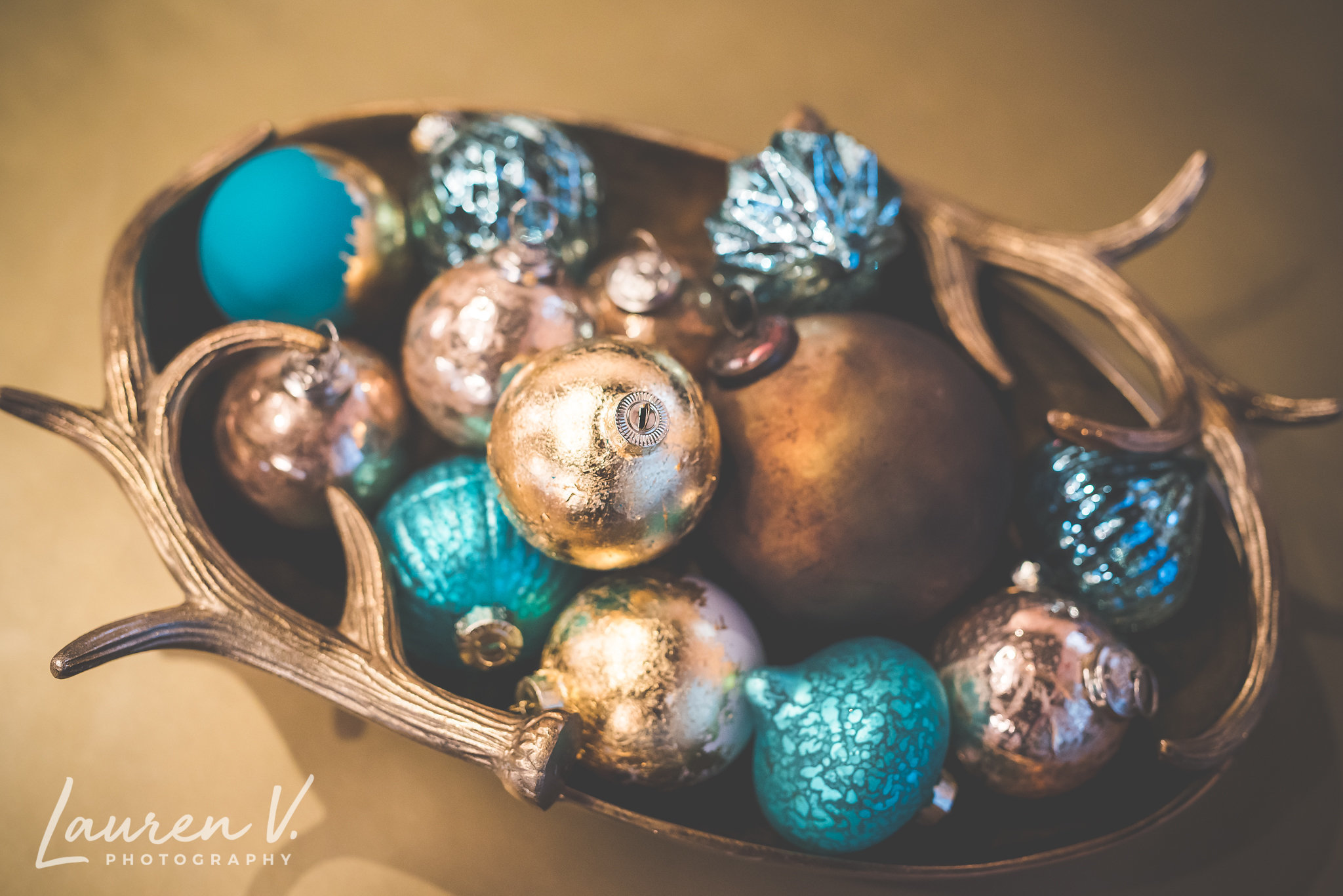 Outside In
Decorations intended for the exterior of the home are much larger in scale than those typically intended for the inside. This year, consider bringing grand wreaths, life-size nutcrackers, magnificent menorahs and even tasteful, brightly lit lawn ornaments indoors. Rather than grouping these items together in one location, scatter them in a sporadic manner throughout your home to create the feel of a larger-than-life, grandiose winter wonderland!
Crafty Christmas 
Looking to put those reindeer clothespins, beaded snowflakes, snowman lightbulbs and photo ornaments to use? Create garland using these handmade knick-knacks as a mantle display or intertwine them with evergreen on the banister for the perfect touch of "made with love and joy" during this holiday season. If you need additional pieces or perhaps a bit of inspiration, the perfect DIY designs for these beloved handmade decorations can be found on Pinterest.
Flocked Fir 
Can't wait for the snow to fall? You no longer have to! Perfectly flocked trees, garland adorned in speckles of white and even ivory flecked pine cones capture the spirit of the snow before merely a flake has fallen. Flocked elements are also brilliant additions to your reclaimed wood centerpieces for the perfect rustic, snow-dusted accent. Tuck them in with traditional green foliage for the perfect hint of weather to come. 
Deck The Palms
Whether you're a snow-bird residing in the Florida Keys or you simply prefer the joy that coincides with the feeling of warm weather, the holidays are no time to shy away from what you love. Consider lighting palm trees instead of pine, hang brightly colored or palm print stockings from the staircase with care and a wreath made of starfish and sand dollars on your front door. Just because you appreciate a tropical setting doesn't mean you need to shy away from decorations during the holiday season, simply add a twist – and perhaps a holiday margarita! 
Cozy Christmas
Is there anything that sounds more superb than celebrating the winter season snuggled up in front of a roaring fire with tasty hot cocoa or a mug of mulled wine? Usher a comfy-cozy vibe to your family room this year with the addition of abundant holiday pillows in dashing red and green plaid, or cool shades of icy blue and heavy ivory faux fur blankets. A capacious bowl of chestnuts for roasting and elongated cable knit stockings hung from your evergreen adorned mantle add just the right amount of cheer to complete this look.  (Just don't forget your suede slippers!) 
Exotic Escape
Not all holiday decor requires shades of red and green. For a more non-traditional but formal appearance, opt for draping table linens and glassware in shades of turquoise, plum or emerald. This color scheme is perfect for a modern take on Hanukkah blue. Accent these gorgeous hues with place settings and flatware that have hints of gold or copper.  According to an article by BBJ Linen about holiday style, deep green blue has warmth which, when paired with the boldness of metal, creates captivating depth perception that makes quite a statement. 
Au Naturel 
There is nothing quite like the look of an organically styled table-scape. Burlap table runners topped with strands of eucalyptus garland and place settings accented with bundles of sage and are simplistically elegant and perfect décor for an au naturel je ne sais quoi. If you're concerned eucalyptus garland may be too bare, the addition of lambs ear for a more full-bodied appearance will complete this look without leaving it feeling understated. 
Houndstooth Holiday 
Black and white may not seem to convey the feeling of mistletoe and holly, but when paired with a bold red, green or blue it is the perfect pattern for an elegant celebration. Consider styling holiday table in a heavy houndstooth patterned tablecloth adorned with textured chargers, deep scarlet napkins, gold flatware and a moody centerpiece to convey elegance at your next holiday soiree.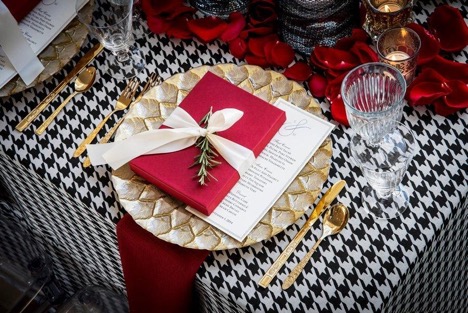 Debi Lilly | A Perfect Event
Lights, Lights, Lights
Good lighting is always a memorable element of design. When considering your options this year, dimly lit curtain string lights hung in your foyer are a mesmerizing showstopper. Imagine walking into your home beneath hundreds of twinkling lights. If your ceilings are high enough, don't hesitate to employ this concept throughout your entire home for truly magical ambiance.
Candyland Christmas 
If visions of sugarplums dance in your head, this tree decoration concept is for you! Wrap your tree in peppermint print ribbon and strands of faux hard candy garland. Hang brightly colored lollipop ornaments and real candy canes to create the perfect delightful sweet treat for your tree, (and for you!) A boldly colored tree skirt beneath this candy creation is sure to complete this scrumptious look. 
Great Gatsby
Luxury is the details of this extraordinary holiday party concept.  Tables covered in sequined jewel toned fabric, towering crystal candelabras surrounded by lush greenery and vintage stemware all exude sophistication. Mingle with your guests as they sip champagne next to over-the-top, impeccably dressed trees under abundant soft lighting in this fantasy-like environment. No one can throw a party quite like Gatsby, but we can certainly try!
Cascading Candles
The flicker of candlelight has always symbolized the longer, darker days of the winter season. Grouping candles of assorted sizes and styles throughout your home can add the feel of warmth, shadow, comfort and even a hint of romance your holiday décor. If you're considering pillar candles for your holiday table, opt for multiple sizes and odd numbers to maintain balance. (And if you're aiming for romance this holiday season, don't forget the mistletoe!)
Trees in Threes
If you've determined that one elaborately decorated tree seems too minimal for you, don't hesitate to add more! There is nothing more symbolic of the holiday season than a luminescent Christmas tree. However, the rules of floral arrangement are very clear and state that odd numbers are ideal when it comes to groups of foliage. So whether they are small, large or of varying sizes, always keep your perfectly illuminated trees together in groups of three.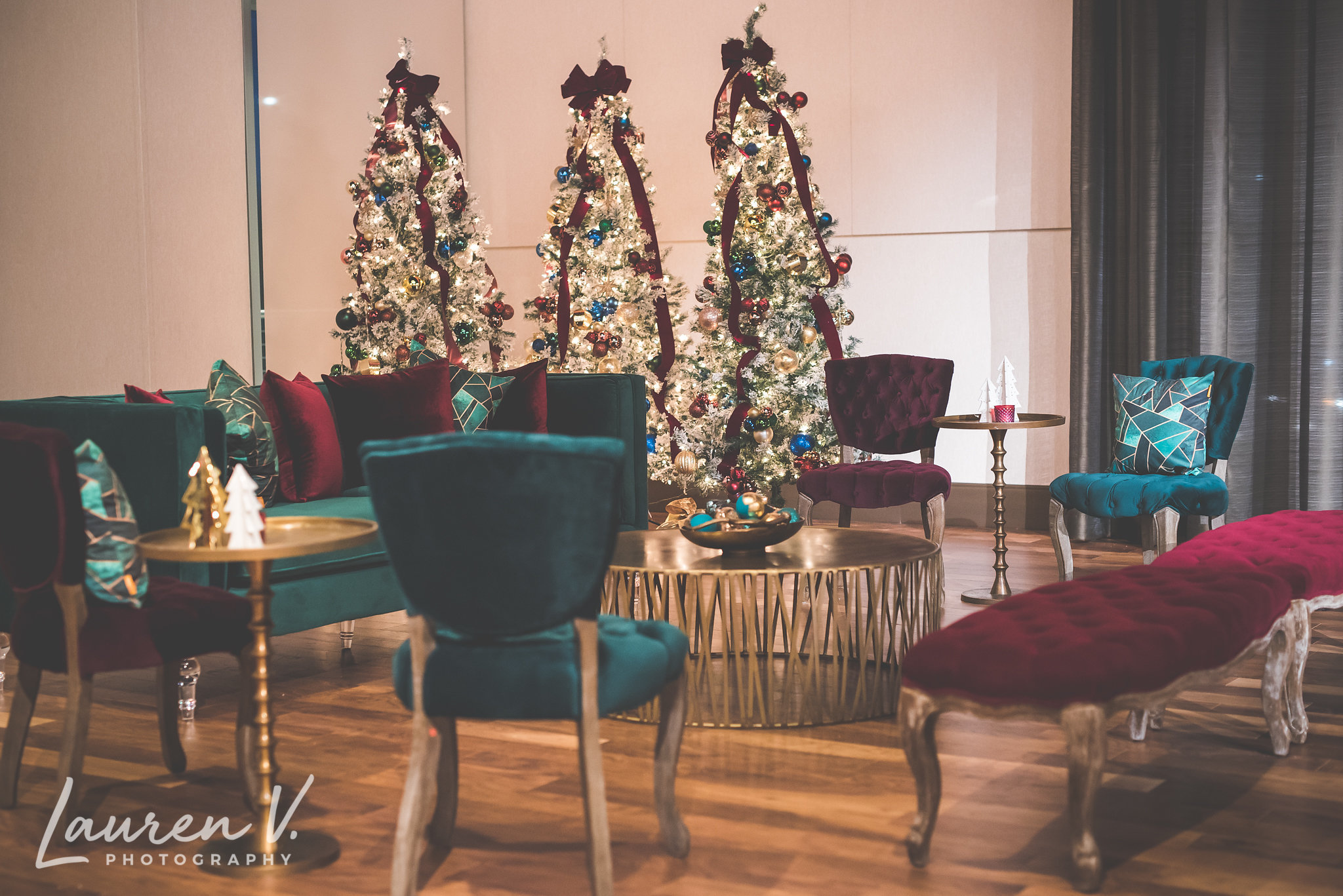 Colorful Comeback
There's an ebb and flow to home décor, outdated trends tend to come back just when you think you have a knack for what seems tried and true. Lighting is no different! Bright, white lights have long maintained their status as the premier holiday luminary. However, over the past few years colorful lighting has made quite the comeback! If you're ready to make the switch, large colorful bulbs strung along the exterior peaks of your home or balcony are the perfect place to start.
Themed Trees
If you're feeling bold this season, your holiday tree decorations should reflect that, too! A tree decorating article from Martha Stewart provides some great ideas to start with. Choosing to outfit your tree in a theme that speaks to family tradition or heritage, something you love – like music or the color pink, even the motif of a favorite novel is the perfect way to express character while still ringing in the holiday season. Remember, glad tidings can come in many forms so don't be timid when it comes to expressing yours.
Vintage Vibes
It's always fun to pay homage to holidays past with the addition of décor from days gone by. Think of adding Mad Men era accents such as mint and blush to your table-scape this holiday season. Top your table with blush fabric embellished with off white chargers as well as blush and mint taper candles and accent pieces. An entirely silver or white tree will be the perfect backdrop if you're looking to convey a true swinging sixties vibe.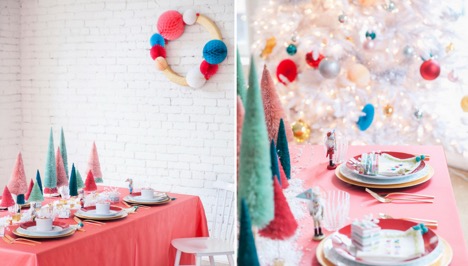 Modern Merriment
Modern design is clean cut and minimalist in nature, but that doesn't mean holiday decorations have no place in the modern home. Minimal but outstanding decorations are in keeping with the motif of this popular décor concept. Birch branches adorned with white lights, monochromatic stockings and menorah candles, as well as decorations with clean lines, all lend themselves to modern design without adding too much clutter to your already flawlessly styled space.
Yuletide Fairy Tale
The magic of the holiday season is truly like that of a fairy tale. Create an enchanted forest within the walls of your home by embellishing your tree with sparkling snowflakes, shiny woodland creatures and brightly colored magical mushrooms.  Don't hesitate to add these fairy tale accents to abundant greenery or to adorn your ceiling with glittering snowflakes hung from thin ribbon to complete this whimsical look.
Luxe Lanterns
Lanterns have long held a place in winter décor for both functional and decorative purposes. There is no more versatile accent piece for your coffee table or mantle this year. Fill various sizes of lanterns with candles, greenery and fabric that correspond with the other decorations in your home. Over sized lanterns in varying heights are also the perfect picturesque entryway table topper.
Gorgeous Grandeur
Stately and elaborate Christmas trees lend themselves to this particular design by being the center of attention in any (or every) room in your home.  Channel the famous tree of the Walnut Room in Chicago throughout the years for grand inspiration as you move from room to room. The more grand and extraordinary the trees, the better!
North Pole
The story of Santa may be geared towards children, but that doesn't mean decorations dedicated to the most jolly of men need to be cartoonish. For an adult take on the man with the bag, consider hanging silhouettes of Santa, Mrs. Clause, the reindeer and elves on a gallery wall. Sprinkle in mini canvas wrap sets of past Christmas photos, outlines of rustic metal sleighs and directional signs pointed due North to complete this lively wall without seeming unsophisticated. 
Whether you choose to outfit your home in red and green with boughs of holly and abundant garland, or to host a swanky affair filled to the brim with moody sparkle for your nearest and dearest, remember holiday and seasonal décor concepts are all about what looks and feels best to you. Don't hold back this year. Choose one style of design or an eclectic mix of several to make this the most merry and bright holiday season yet. 
---
About the Author: Megan Beth
Megan Beth is a writer based in Chicago. She enjoys creating useful, informative articles to help people succeed. When not writing, you can find Megan exploring the city or spending time with family. 
---
Get more helpful advice: